Yesterday I was just browsing Instagram, thinking about my upcoming fall/winter sewing projects when I stumbled about these grid-like fashion sketches. They looked very interesting, especially because they had the hashtag #capsulewardrobe in it and looked pretty easy to draw. Taking a closer look I discovered that they are part of a challenge from #mybodymodel. This inspired me to do some sketching an take part in the challenge.
What is mybodymodel?
It's a company which provides an app to create a fashion drawing model from your own body measurements. It's super easy – The have a good guide on how to take your measurements correctly. Then you fill them into a form and get your own printable "paperdoll". Creating that paperdoll is free, but downloading the print template costs up to 27$. I like the idea a lot and the paper dolls look good too. This is why I write about it here. It's no paid advertisment or something similar.
To be honest – I didn't use a body model from mybodymodel to make my sketches. Why's that? I already made a very similar paper doll from my body measurements a year ago. On a blog about fashion design I saw the designers using plastic stencils of a standard female bodyshape to do their sketching. I liked the idea a lot, because with that I can easily draw pattern sketches and see how they look on my body. So I took my measurements and made a doll of my own. I use it a lot to sketch patterns and outfit combinations.
I'll post another blog post on how I did this paperdoll next week!
The concept of the capsule wardrobe and the 3×3 grid
The concept of the capsule wardrobe is as interesting as inspiring. In times of total abundace, everyone has way too much clothes. The closets are full and yet we go out every season and buy new stuff. I did that too for a long time. I always buyed tons of new clothes, shoes and accessoiries, many of them I wore only once or twice. My closet was full of stuff that didn't fit, didn't look good on me or just didn't match my style. in the end I always had a full closet and nothing to wear. Two years ago the concept of the capsule wardrobe came up on the internet and as I started reading about it, I realized what I did wrong all the time.
That's bad for the planet and bad for the soul. I don't have to buy and buy new clothes all the time, just because the big companies' advertisement tells us so.
Drawing my fall/winter capsule wardrobe
I started drawing the clothes that were already on my sewing-to-do-list for this fall/winter. This list contains a hoodie, a knee-length black skirt, a longsleeve top, another pair of biker leggings and a purple corduroy dress. I didn't think about combining that pieces already, but when I drawed them I realized, that they could be worn together. So I placed them on the grid.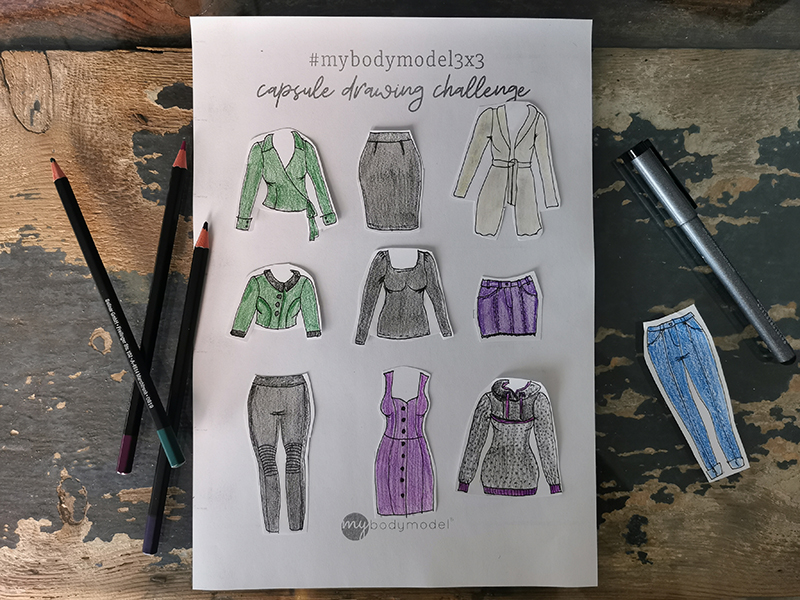 So my 3×3 pieces are:
Top1: Black longsleeve with wide neckline and little puffy sleeves
Top2: Green wrapblouse with collar and cuffs
Top3: Longsleeve Sweat-hoodie in black structured fabric with purple details
Bottom1: black biker leggings
Bottom2: purple denim skirt
Bottom3: black pencil skirt, made out of punto
Layer1: off-white wool cardigan with belt
Layer2: Little blazer-jacket with black collar and cuffs
Layer3: purple corduroy dress
Conclusion: Benefits and inspiration
It was very fun to do some drawings again. I really want to do that again soon. In additional I got a perfect sewing-to-do-list for this fall/winter. As you can see in my conclusion for the year 2020, I really made nearly everything from this list.
kind regards,
Lasercat