Fall has begun and now it's time for boots and dresses again! I started my 2020 fall wardrobe with a comfortable jersey dress, because since I'm working mostly from home I'm really in need of comfortable clothes. So here is my new handmade dress in black and grey with cats:


The pattern
For sewing this dress I used a basic t-shirt pattern from the book "Gertie sews vintage casual" by Gretchen Hirsch. I love that book and all the patterns in it and I can highly recommend it to anyone who is into vintage fashion and looking for some really good sewing advice. I already made this t-shirt ("Sweetheart top") in many variants and fabrics. Since I like the curvy fit of the pattern a lot, I decided to make a dress from it too. So I just added length to the seam of the shirt and it became a dress.
This dress is my wearable test garment for that pattern. I wanted to try out the "t-shirt dress" first on some cheap fabric to see how it looks.
The fabric
I found this fabric somewhere on the internet about a year ago. Unfortunately I don't remember where I bought it, but I assume it must have been Ebay or AliExpress. Sadly, the fabric isn't of good quality, therefore I cannot recommend it. It's a jersey, probably made of cotton and viscose. The fabric is very thin and very stretchy. I prewashed it at 30 degress, then it shrunk only a little bit and didn't lose any color. Still I think the fabric is too thin, I'm afraid it won't last many washings until it wears out or gets holes. I will wash the dress very careful in a washing bag, never hotter than 30 degrees and hope it will last a few years.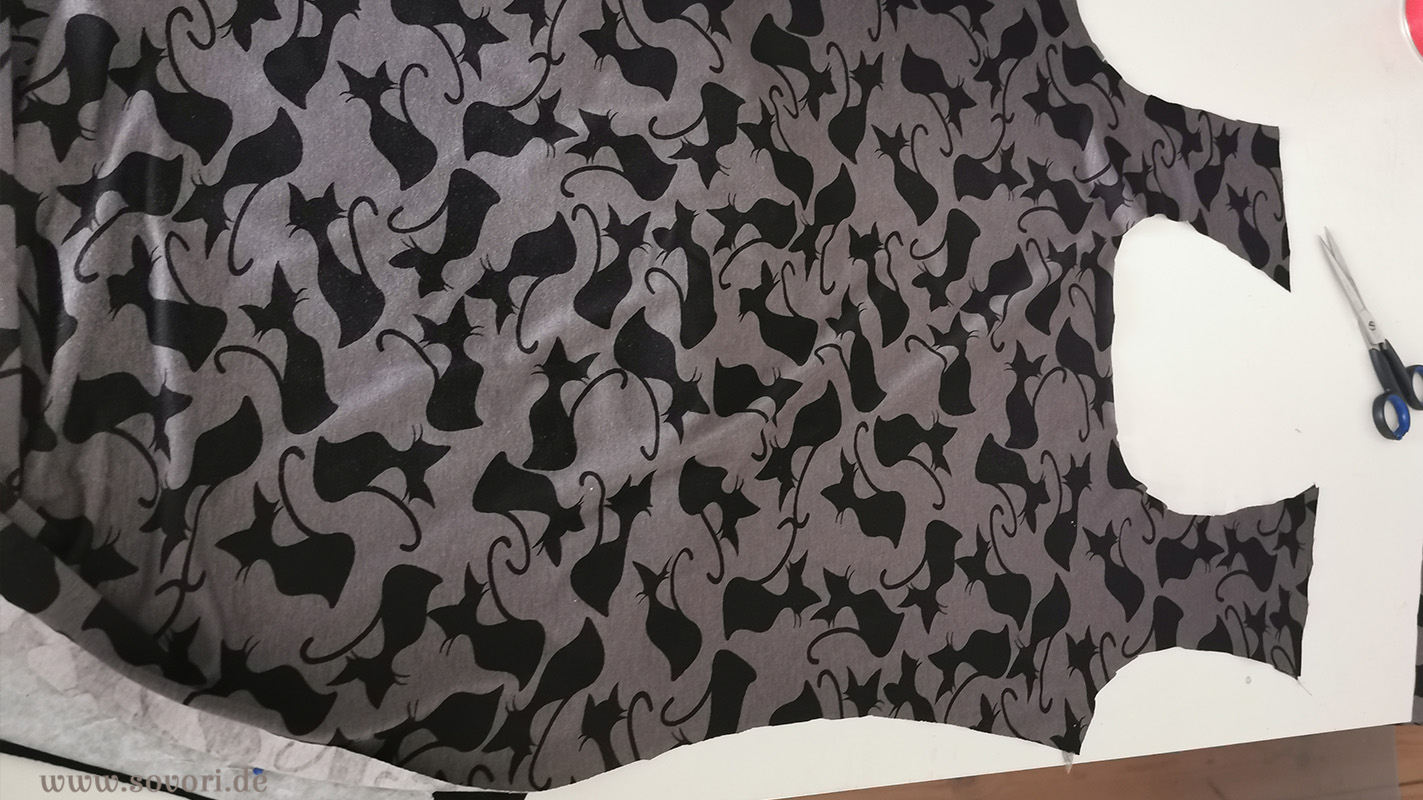 Normally, I don't sew with low quality fabrics. I want my handmade pieces to be worn many years – And when I don't like to wear it anymore, I sell them on the flea market or Ebay. So to me it's somehow sad to know, that this dress won't be worn that long. When I ordered the fabric only, I just saw the cats and didn't get any information on the weight or quality of the fabric. But since it was there, I didn't want to throw it away either.
Sewing the dress
There is not so much to say about the sewing process. This dress is as easy to sew as the top from that pattern. Since I hadn't much fabric, I made the sleeves and the neckline out of black viscose jersey. On the seamline I added a little black elastic lace.
Conclusion
I like the dress version of this pattern a lot and I will definetly sew that again. But next time i will use a fabric with better quality.
The dress is very comfortable to wear, although it is a little too short for me. I wear it more as a tunic with boots and legwarmers during the fall.
Thank you for reading this post! Since you have scrolled all the way down here, I will reward you with a cute cat picture. A cat dress + a real cat = DOUBLE CAT CONTENT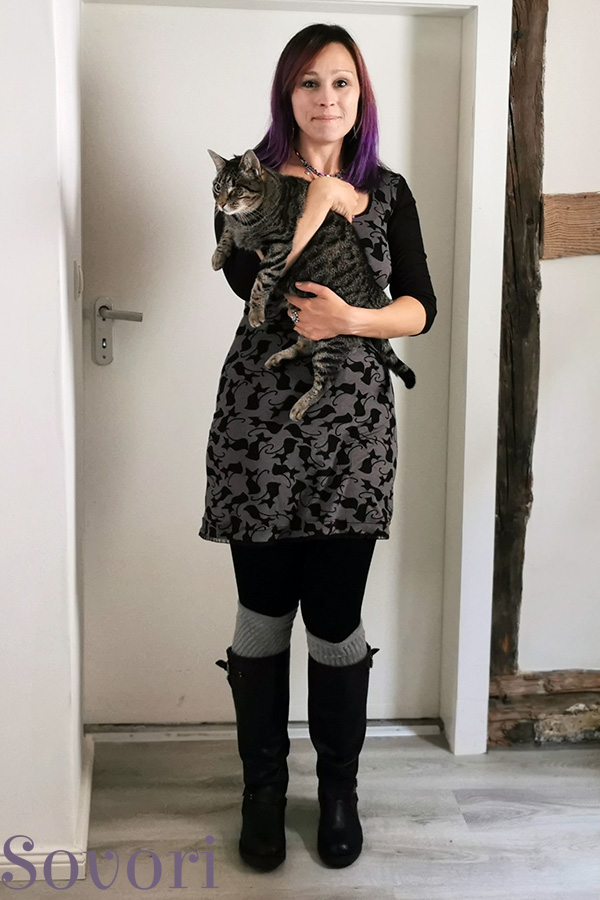 To see more dresses (and cats!) visit my MeWe profile, my Facebook Page or follow me on Instagram!
kind regards,
Lasercat