Are you bored at home today? How about sewing something quick and easy?!
Here is an easy tutorial for a simple circle skirt. This little sewing project is perfect for beginners – it doesn't even need a pattern. There a so many varieties of circle skirts you can make – This tutorial enables you to make circle skirts in every kind of size and length. It can be a circleskirt for kids or for adults. The skirt is made out of jersey fabric, one of the most easiest fabric to sew with.
In this tutorial I explain how I made that circleskirt out of punto jersey. This skirt can be made from any elastic fabric in six easy steps, you don't even need a pattern. Once you figured out your measurements and the construction of the skirt, there are so many variations to sew: Half-circle, quarter-circle, miniskirt, maxiskirt,… If you don't want to read all the stuff about fitting and variations, go directly to STEP 1 and start sewing your skirt.
A few facts about circle skirts

Why should my wardrobe contain a circle skirt?

Since I started sewing I already made a few circle skirts in different shapes and materials and I must admit – There never has been one of them I hadn't worn a lot. It is so easy to make it fit perfectly and the shape of the skirt goes with every fashion season.
A circle skirt goes with every kind of bodyshape – If it looks good on you depends on the length and the height of the waistline. I drew a little sketch to demonstrate that statement: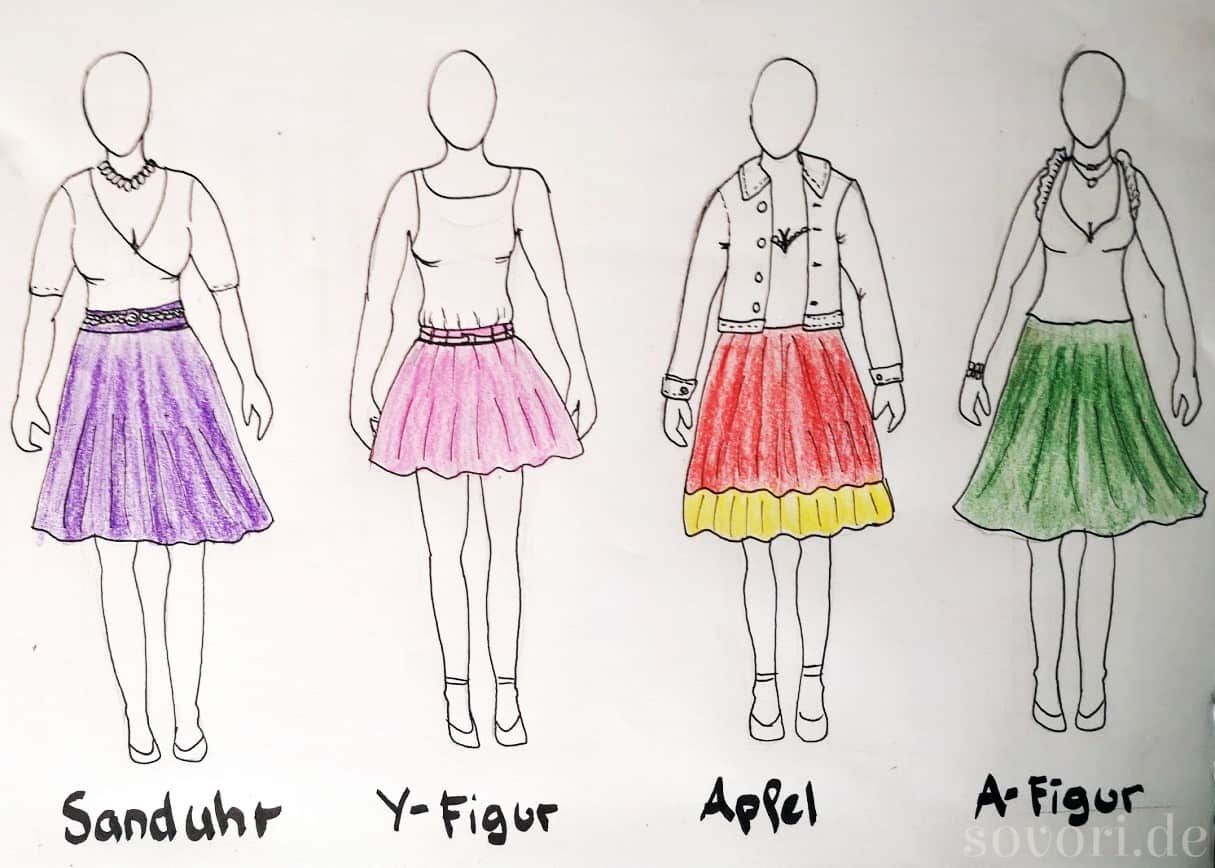 As you can see, women with an A- oder Y-shaped body look better in a skirt with a lower waistline. When you have thin or well trained legs, make the skirt shorter to accentuate them.
Why did I choose jersey fabric?
A circleskirt can be made from nearly any kind of fabric. I recommend using fabrics that are flowing and not too light, so the skirt won't lift in every little breeze of wind. I chose jersey fabric for my skirt, which is a little unusual. Jersey is an elastic knitted fabric, which is not made for hanging loosely down. When it does, it tends to stretch out and is losing it's shape. So why did I use jersey anway?
First, I just wanted to try something new. I already made two circle skirts out of woven fabrics – The making of them is not very different from this one, they just have zippers instead of an elastic waistband. And here comes the great advantage of the jersey skirt: The elastic waistband has a good fitting, it's never loose and prevents the skirt from slipping up. I chose punto as a fabric, because it's heavy and thick. It doesn't stretch out quickly and the thicker fabric falls perfectly around the body. It is also possible to sew the skirt out of thin jersey. But consider that thinner fabrics can be transparent and thin kit fabrics tend to show every piece of your curves, even the ones you don't want other people to see.
Uncountable variations
When you think of circleskirts, you may come to rockabilly, gothic lolita or vintage styles. But the pattern is a really classic fashion piece and can be quite fashionable as well. No matter what style the circle skirt shall be – There are so many possibilties to make that simple pattern interesting.
Adding Details: Trims, Buttons, Laces, Bows….
Crazy pattern fabric: Polkadots, cats, whatever is fun to you
Using different colors for the circle parts
Layered skirt with a petticoat underneath or lace on top
On this  Pinterest-Board I collected many variations in all colors, styles and lengths. Take a look and get inspired!
Once you decided, how your new skirt shall look like, let's get sewing!
Supplies you will need:
Scissors
jersey fabric
elastic for the waistband
a piece of string for drawing the circle
chalk marker
pins or clamps
machine needle for jersey
1. Construct the pattern of your circle skirt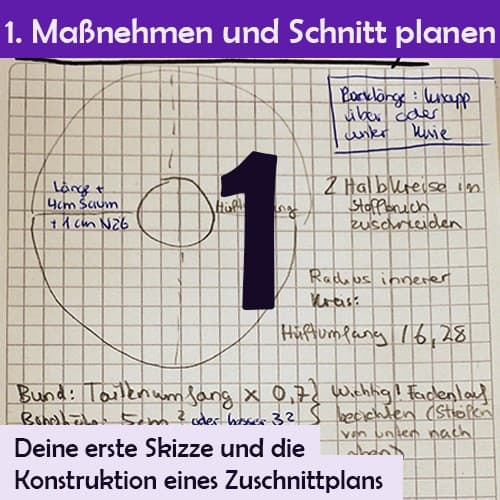 As I mentioned before – You don't need to cut out a pattern. When I construct a circle skirt, I do it with a little sketch, to get my cutting plan and calculate the amount of fabric I need.
Measurements you will need to construct the skirt:
Length: How long shall your circleskirt be? Measure the whole length from the waistline to the seam.
Width: Measure the waistband of your skirt.
Note your measurements. Now you've got to choose – Which type of circleskirt do you want to make? A full-circle? A half circle? Or something in between? I like to use that "Something in between" circle skirt, when I don't have enough fabric for a full- oder half-circle.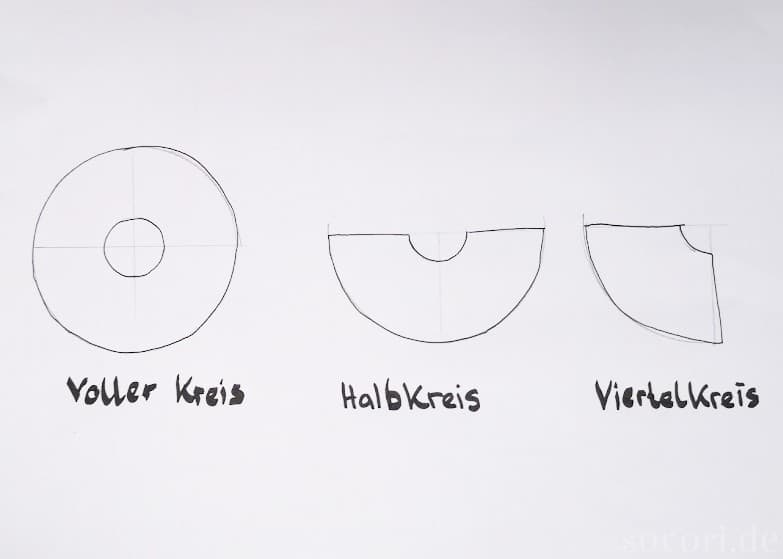 2. Calculate fabric and other sewing supplies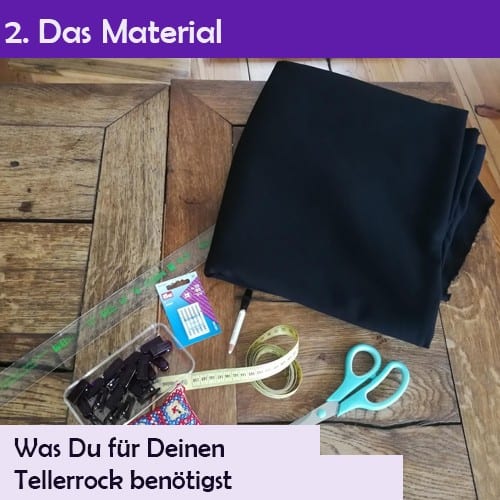 There are a few techniques to cut a circle skirt. You can cut the whole "Circle" in one or seperate it in several pieces. For a long full circle skirt you might need a very wide fabric. Normally, fabrics have a width of 150cm. Since you cut it on the fold, you only have a maximum skirt length of 75cm left. If that is too short for you, you will need to seperate the skirt.
Now draw a little cutting sketch for your skirt. Don't forget the waistband, which is cut on the bias to get the best flexibility.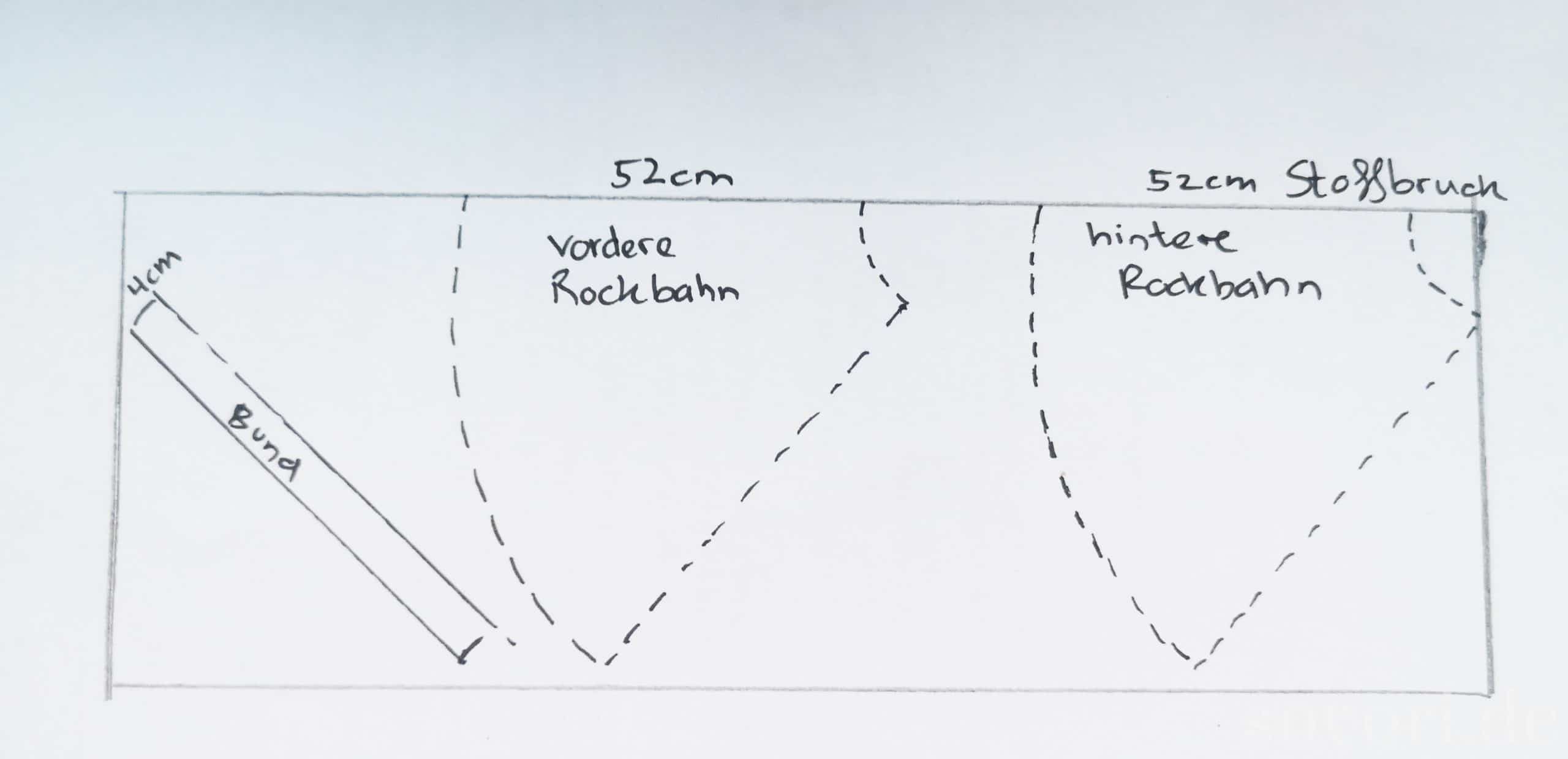 My circleskirt corresponds to a size 40 with a length of 56cm and a with of 90cm. I used 2m of punto jersey to sew it.
Please note that I did not calculate the seam allowances in the measurements. I add them when I start cutting my skirt. If it's easier to you, you can already add them when you make your cutting sketch.
3. Cut the circleskirt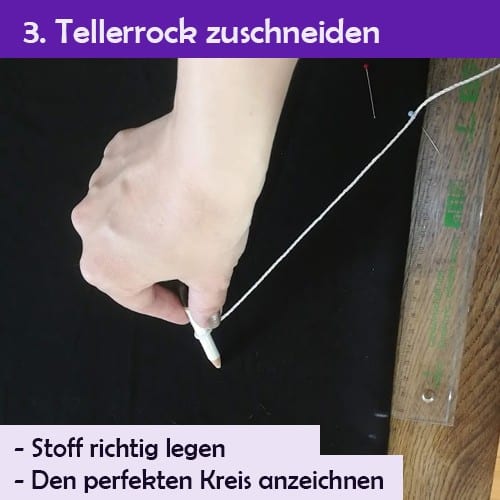 Cutting a big circle skirt takes some space. I  used my dining table for it. After prewashing and ironing my fabric, I folded it in half lengthwise. To draw a perfect circle, I made myself a little helper with a piece of string and a chalk marker.
Knot one end of your string to your chalk marker. Then tape it to the table while leaving the length of the string in your skirt's length. Now you can draw your circle, half circle or circle pieces on the fabric.
To get the "upper circle", the part that will be on your waistband, you'll have to do some math:
Waistband width/4  = Radius
On my skirt the waistline width is 90cm, so the radius for the waistline is 22,5cm. With this radius I draw a small half circle (or circle) on the fabric. To get the bigger circle that marks the seamline of my skirt, I add the skirt length to the radius I already used. In my example that means
22,5cm + 52cm = 74,5cm
The waistband has a height of 4cm. It's going to be foldes lengthwise, so the total height I need to cut is 8cm. To make the waistband stretchy close-fitting, I need to substract 10cm from the waistband's width. So my waistband has a width of 80cm and a height of 8cm.
Note: It's important that the waistband is cut on the bias, so it stretches crosswise and does not stand out on the back.
Seam allowances:
Before you cut, add 1-1,5cm seam allowances to your skirt. I do this with a triangle ruler or a little stencil I made.
As you can see, I cut my skirt in two one-third-circles.
4. Sew the sideseams of the skirt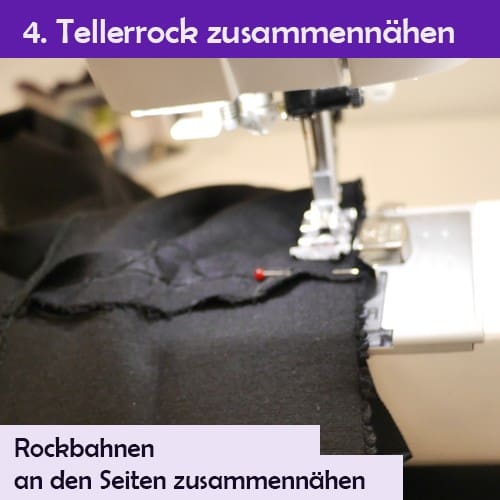 Please note: It's important to use a stretch- or jersey needle for knitted fabrics. This needle has a rounded top and wont rip the mesh of the fabric.  Needles for woven fabric have a pointy top, they could make little holes or a running stitch in your fabric.
I used my overlocker to finish the seam allowances of the skirt. When I sew knitted fabrics, I finish the seam allowances of two fabric parts together and press them to one side.
5. Make the waistband
A. Easy waistband without elastic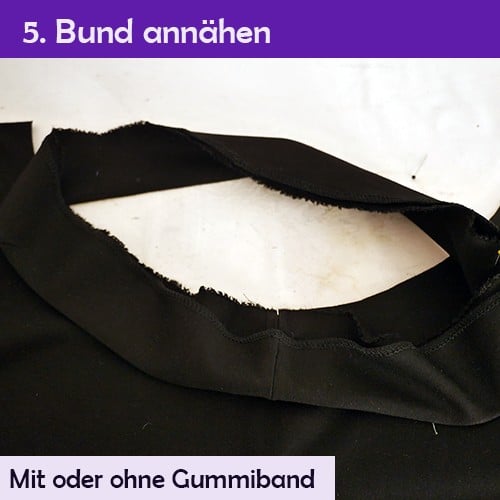 When I calculated the width of the waistband, I already substrated 10cm, so the waistband is tight around the hips and the skirt won't slip down. That's sufficient for most lighter fabrics.
And this is how it's done: 
Sew together the short ends to get a ring
Mark the halfs and the quarters on the long side

Pin the waistband on the sides and the front and back center to the skirt. Use your marks to fit the waistband equally.

Sew the waistband to the skirt and stretch it between the pinned marks
Turn it up and finish the seam allowance of the upper end
Fold the waistband lengthwise to the inside of the skirt
From the right side, sew the inner side of the waistband to the skirt, using a stretch stitch or a twin needle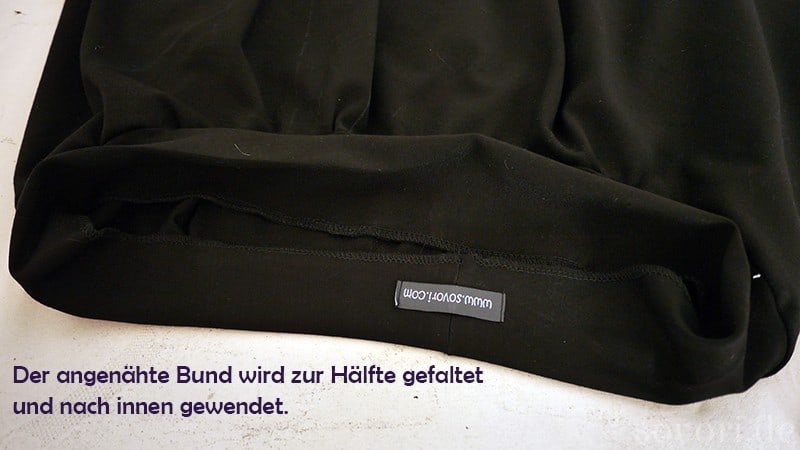 B. Easy waistband with elastic inside
When using heavy fabric, a simple waistband may be not enough to hold the skirt. My punto jersey is very heavy, so it pulls down the skirt frequently. To prevent the waistband from stretching out and to hold the skirt in place, I added an elastic band inside the waistband.
That's how I've done it:
Sew the waistband like decribed in A (see above), but leave a little space open when you sew together the short sides of the band.
Then cut a piece of wide elastic (3-4cm) in the length of your waistline width -15cm
When you finished the waistband, pull through the elastic with a big safety pin
Let the ends of the elastic overlap and sew them together with a zigzag stitch.
Close the hole where you pulled in the elastic with a few hand stitches
6. Sew the seams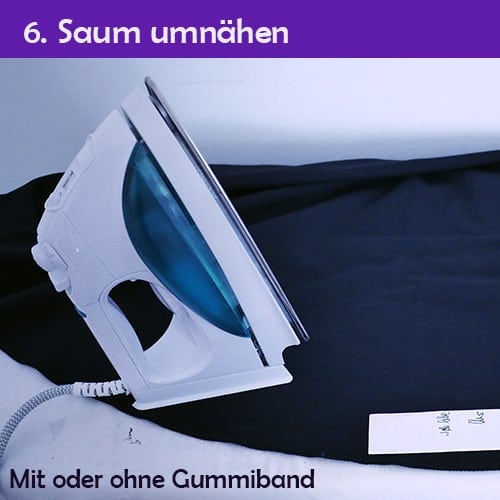 The last step is the lower seamline of the skirt. Since the skirt is very wide, the seamline does not need to be stretchy. That means you can use a big and straight stitch on your sewing machine and you do not need to use an ugly zigzag stitch or the twin needle. I finished the seamline with my overlock machine first bevore I sewed it.
When I cut the skirt I added 4cm seam allowance on the bottom line. Now I turn this in to press and pin it to the inside. Then I topstitch the seam from the right side.  I press the seamline again after sewing to give it a smooth and straight look.
That's it. Your circleskirt is finished! If you'd like so see my finished black circle skirt, click here to get to the post. There I wrote a little about my experiences with sewing punto jersey.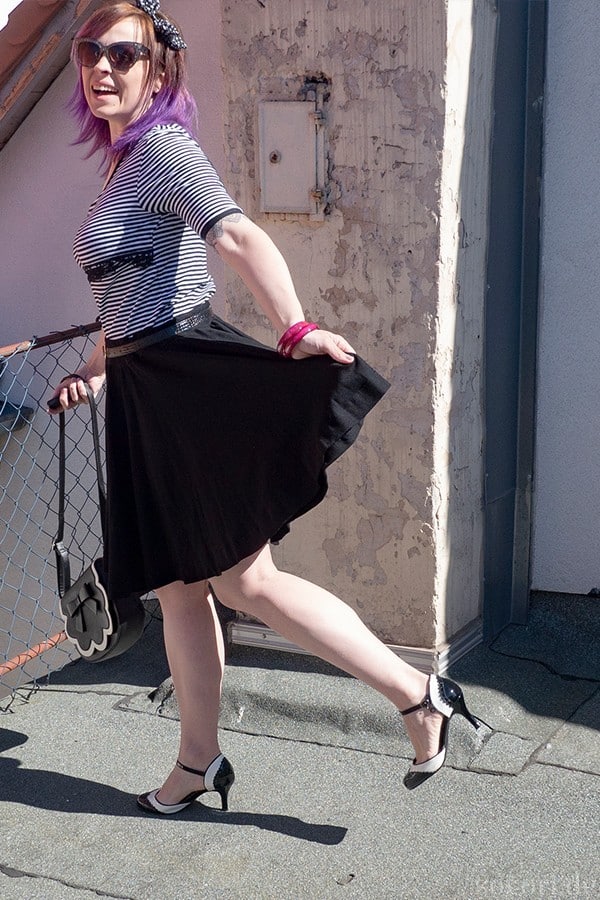 Did you like this tutorial? Please show me your handmade circleskirts! Feel free to leave me a comment here or visit me on my Instagram, Mewe or Facebook profiles. Sending you some spring vibes to whereever you are…
Love,
Lasercat