Sometimes the creation of my most beautiful clothes is completely unplanned. This dress wasn't planned as a real dress, it was merely a muslin for another sewing project. In the end I had a new favorite party dress in favourite color.

But that was a few years ago. Due to my pregnancy and COVID-19 I hadn't even a chance to wear that dress outside the house. But anyway I took the dress out of the closet today to take some pictures for the #vintagevalentinechallenge. The Motto of this day is "valentine colors" – To me, that is absolutely not red or pink. It's purple. Purple is my true color of love. Whenever I see something purple, I feel happy. If I could, I would even paint my house in purple. 
As I wrote before, that dress was meant as a muslin, so it is part from technically perfect, but I love it anyway.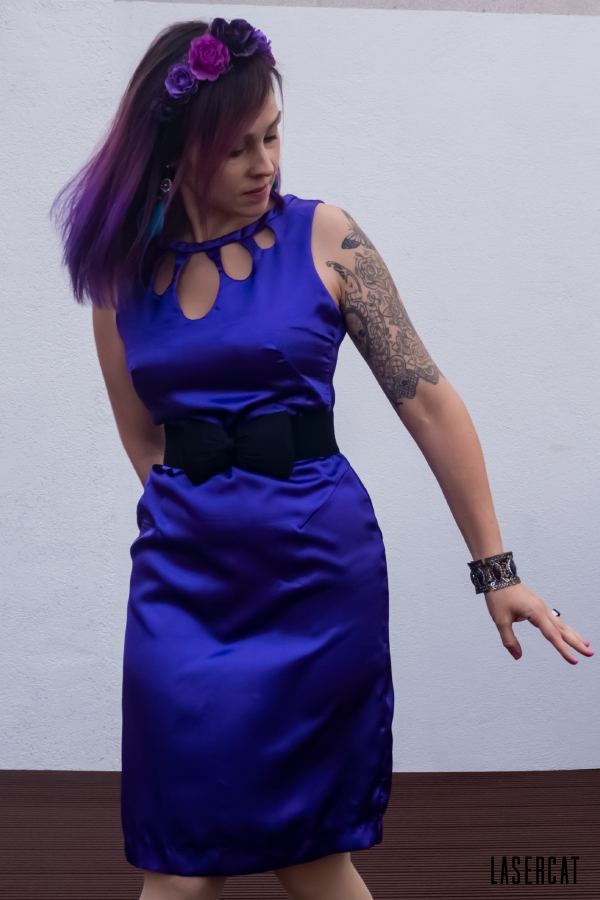 If you are a casual reader of my blog you might remember my cherry blossom dress that I sewed for a local festival in 2018.  That pattern (Burdastyle) with the fitted silhouette and the cutout details on the neckline was quite challenging.  That's why I made a test garment before cutting it from the expensive fabric. That test garment made from cheap purple satin didn't fit perfectly, but I liked the glow and the color so much, that I chose to finish it as a real dress. 
What is a muslin? 
This is for those who are new to sewing or pattern adjustments and wonder what test I'm talking about here. 
So the name already tells it: Making a test-garment, also called "muslin" means testing the pattern on a cheap fabric first before cutting the real one. So you cut and sew the pattern out of cheap fabric, try it on and see if it fits correctly. Then you can copy the desired adjustments to the pattern. Of course it's not always necessary to make a muslin when you want to try out a new pattern. Many adjustments can be made on the pattern itself and can be approved by measuring the pattern. But a body is not perfectly symmetrical, so when you want to sew something fitted out of non-elastic fabric, you can only see the necessary adjustments by trying it on. 
So when you make a muslin or test-garment, you have to choose weather you want to want to make a wearable muslin or a non-wearable muslin. 
If making the muslin is just about testing the fit of a special part in the pattern, for example the waist or bust line, it's not neccesary to sew the whole thing as a muslin. For me it's good enough to cut only that special part of the dress as a muslin. Sometimes I even have to make two or more of that fitting muslins, before the whole thing fits,like I did with my Grey wool dress. This part-muslin are not meant for wearing them. They have no finished borders or seam allowances and are made of non-wearable fabric. I throw them away after finishing the real dress. 
Tailors use "muslin" fabric for this kind of test garments. That is a very thin fabric that's very cheap, but good to sew and to iron. Me, I tend to use old fabrics or scraps, that are already faded or smelly so they can't be used fur wearable clothing anymore. I think that's more sustainable that buying muslin fabric and then throw it away again.  In the picture below you can see one ofthe muslins of my Grey wool dress. I made them from an old and dirty decorative fabric a friend gave me. The fabric smelled like an old house, so it wasn't hard to throw it away afterwards.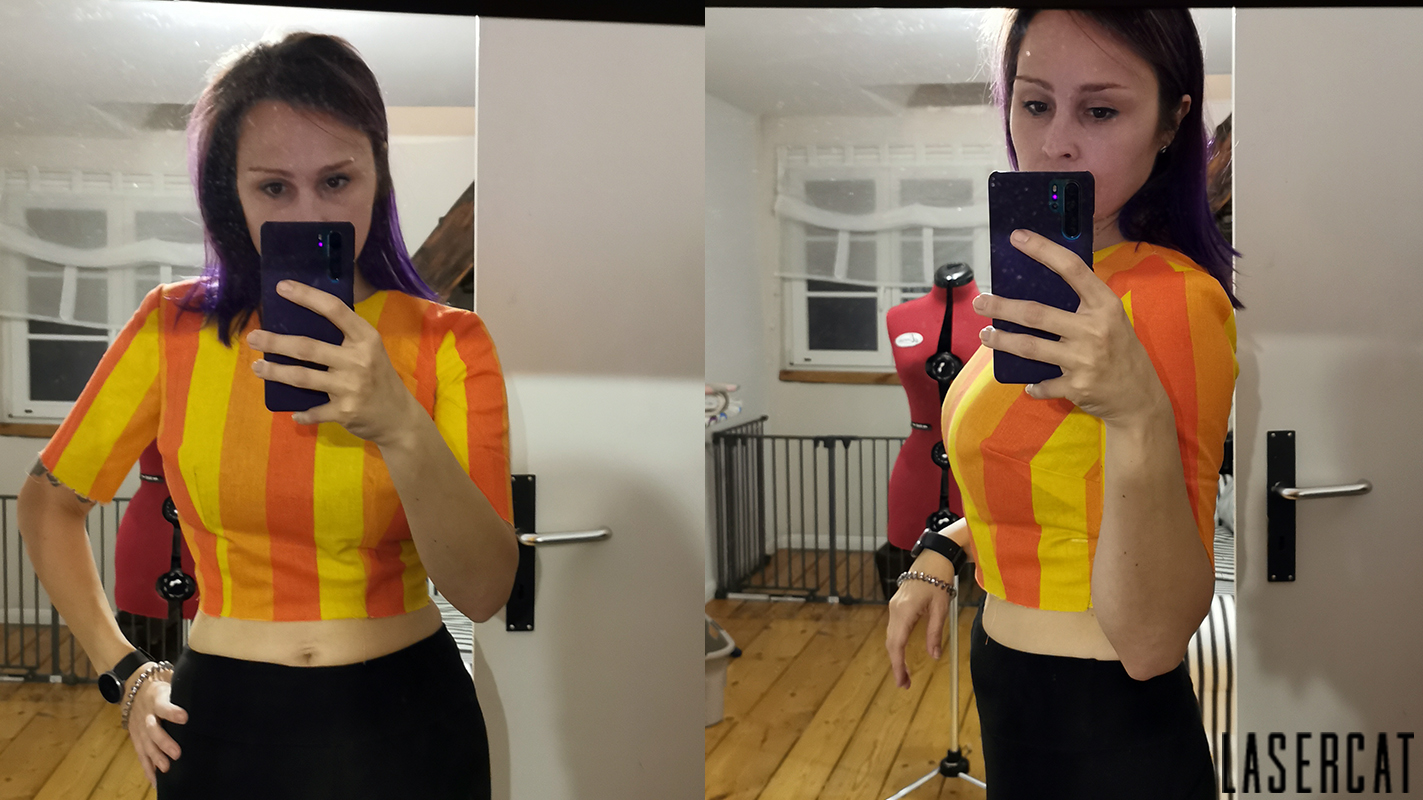 But now about the wearable muslins: 
If you want to check the whole shape of a dress first before adjusting the pattern, I recommend making a wearable muslin. This just means sewing the complete dress from another fabric.  The advantage of that method is of course that no "waste" is produced. In the best case you will get an additional beautiful piece of clothing.  But sewing a complete dress with all finished seam allowances, neckline, zipper etc. can be very time-consuming. And in the worst case the finished garment doesn't fit correctly. But it's a great chance to practice all the construction steps of the "real" dress first, what increases the quality of the sewing a lot.  Ten years ago I never would have made such an effort for testing and adjusting a pattern. But now I'm much more concerned about perfect fitting and pattern adjustment, so I make a muslin for most of my fitted clothes I sew. 
Is it worth the time?
That's a good question many sewing beginners ask themselves. After all the process of making the muslin can take a lot of time. But I can tell – It's worth the effort! Especially when it comes to fitted clothing that gas to go perfectly with the individual body shape. I always make muslins first when I sew tops or dresses from non-elastic fabrics. 
Advantages of a muslin
You can try out the pattern and the instructions without having to cut the "good" fabric 

You don't have to make adjustments later on the "real" dress

Increases the quality and fitting of the real dress

Sometimes you'll end up with a wearable piece of clothing you love
Cutouts and diagonal darts
The pattern of this dress is from a 2016 Burdastyle magazine. I discovered it when I was looking for a party dress pattern in 2018 and was stunned by the feminine silhouette and the cutouts. The dress has a cutout back as well, the neckline is closed with a button on the backside. It's closed with a hidden zipper, that is on the back of the dress too! 
I sewed that dress before my pregnancy, when my body shape was a little different than it is now. I didn't have that much trouble with fitting patterns to my body than I have now. The only reason I still fit in the purple dress is, that I lost some weight and it's a little too wide around the waist and the hips now. When I sewed that wearable muslin back in 2018 it was so tight, that I could barely close the zipper. 
I chose to make my wearable muslin from a cheap polyester satin that was lying in my fabric storage for quite some time. I wanted to see how those cutouts are made and how they would look on me. The skirt is fitted to the body with diagonal darts. I never saw a pattern with that kind of darts before, so I used the muslin to see how the might come out. 
The top of the muslin dress is cut in size 38 and I blended to size 40 on the skirt part. Apart from this I didn't make any pattern adjustments. The following pictures where taking before I ironed the dress. Looking at them makes it obvious, why this muslin was worth the time.
The neckline in the front was standing up a little bit, so I fixed this with a little piece of shirring elastic, that I sewed by hand into the seam. That's not a technique I would ever use on a real garment, but here it helped to make my muslin wearable at all. For the real dress I adjusted the neckline width so it's perfectly flat above the cutouts. 

I made the cutouts with a sharp Cutter on my cutting mat. They gave to be sewn very carefully, but it turned out quite fine on the muslin already. 

The neckline on the backside was also standing up a little. I tend to have that fitting issue on most of my clothes. Probably the patterns are made for women with wider back measurements. To fix this, I ripped up the seams and cut the fabric a little before finishing the neckline. 

The bust darts are too long and a little too high. I just didn't know how to adjust them correctly in 2018. Today I would totally change the length and position of the darts. Back then they were okay for me
In the end I liked that test garment that much that I added it to my wardrobe. I just love the color and the shape. 
This beautiful purple glitter button I found at a local flea market. It was only one button and here I had finally a piece to sew it on.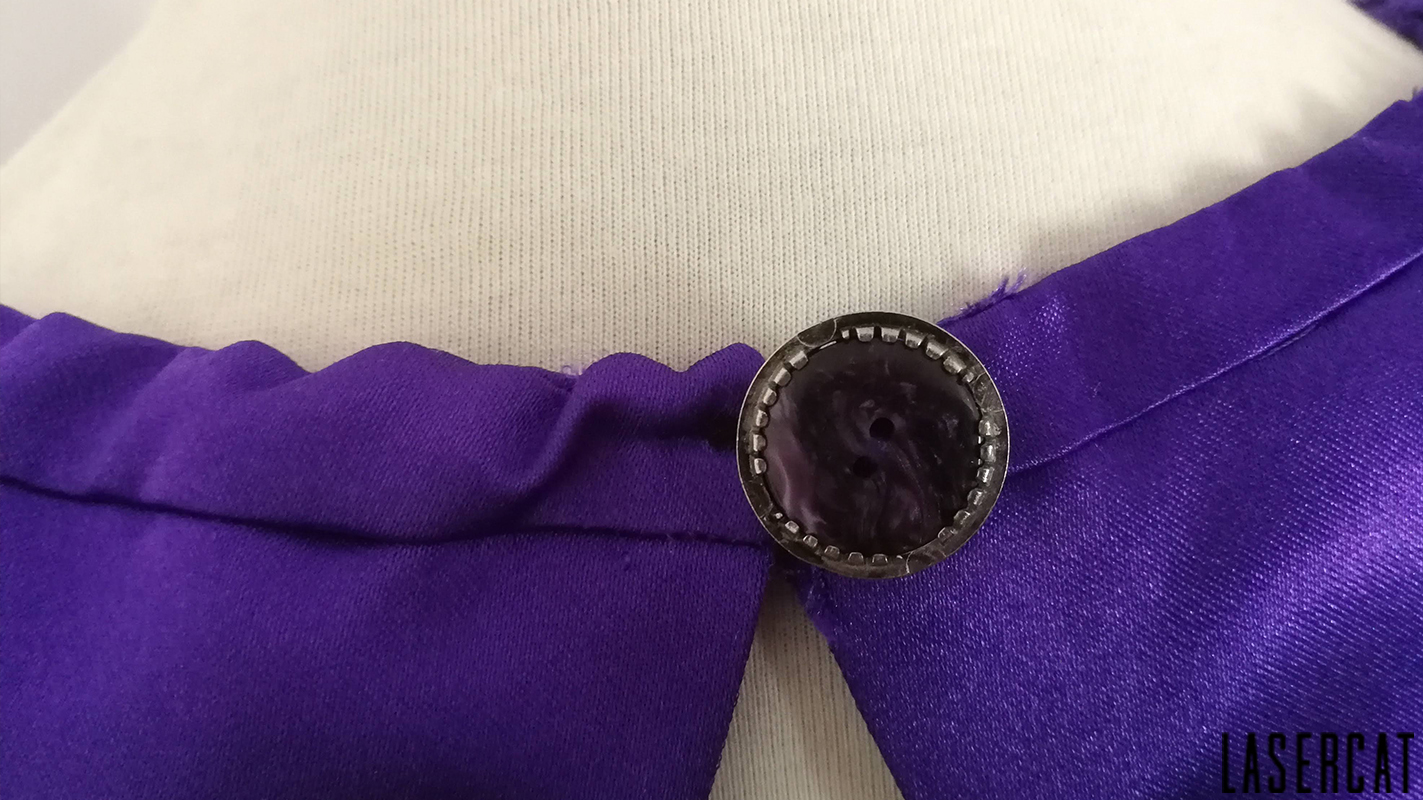 Purple is love – And love is not about perfection
This dress is a perfect example that nothing has to be perfect, not in love and not in sewing. 
The dress is far from perfectly fitted. The darts are not done carefully, the fabric has a cheap shine and it's a little too wide around the hips. But it stays in my closet anyway and I feel fantastic when I wear it.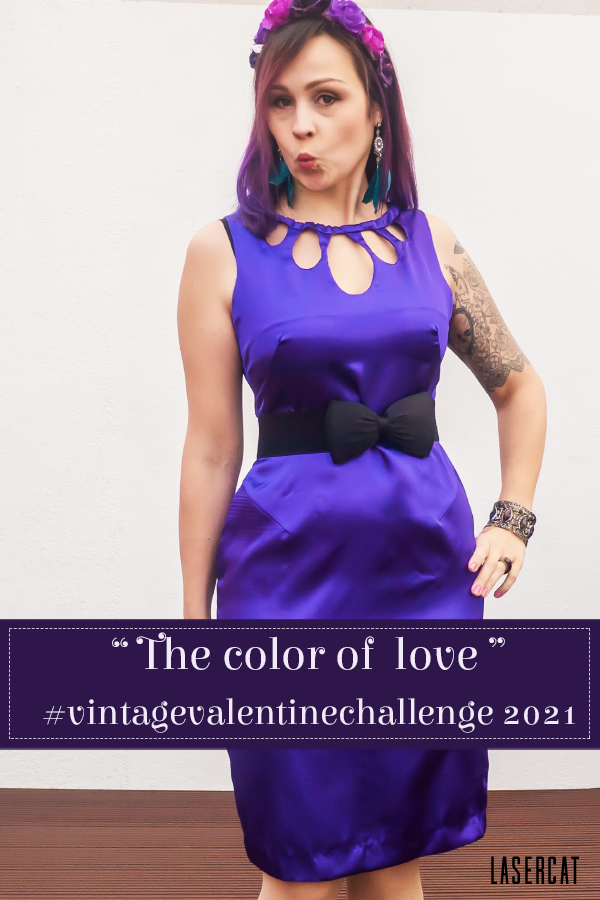 By the way there are occasions for non-perfect dresses too! This might not be the right dress for the opera gala or a wedding, but it perfectly fits for a summer disco party at the beachbar or a nice city club. Just imagine me, with a cocktail in my hand, dancing in the sparkling light of the discoball. The dim light makes it impossible to see if the darts are sewn perfectly and the shiny satin reflects the glittering lights. 
How about you? Do you also dream of dancing in the dark again? Feel free to leave me comment below. 
Kind regards
Lasercat