Yay! Finally I can share some cat-content on this blog again! In Germany, it's the hottest time of the year right now. Temperature outside is high, the sun is burning and even at night it won't cool down. This part of summer does not need many clothes and inspired me to make this cute, easy wrapskirt.

Fabric: The cats
Now starting with the cat-content… I love cat-fabrics as much as cats and when I see one, I need to buy it.  Admittedly, this special fabric was an experiment. I ordered it on AliExpress directly in China.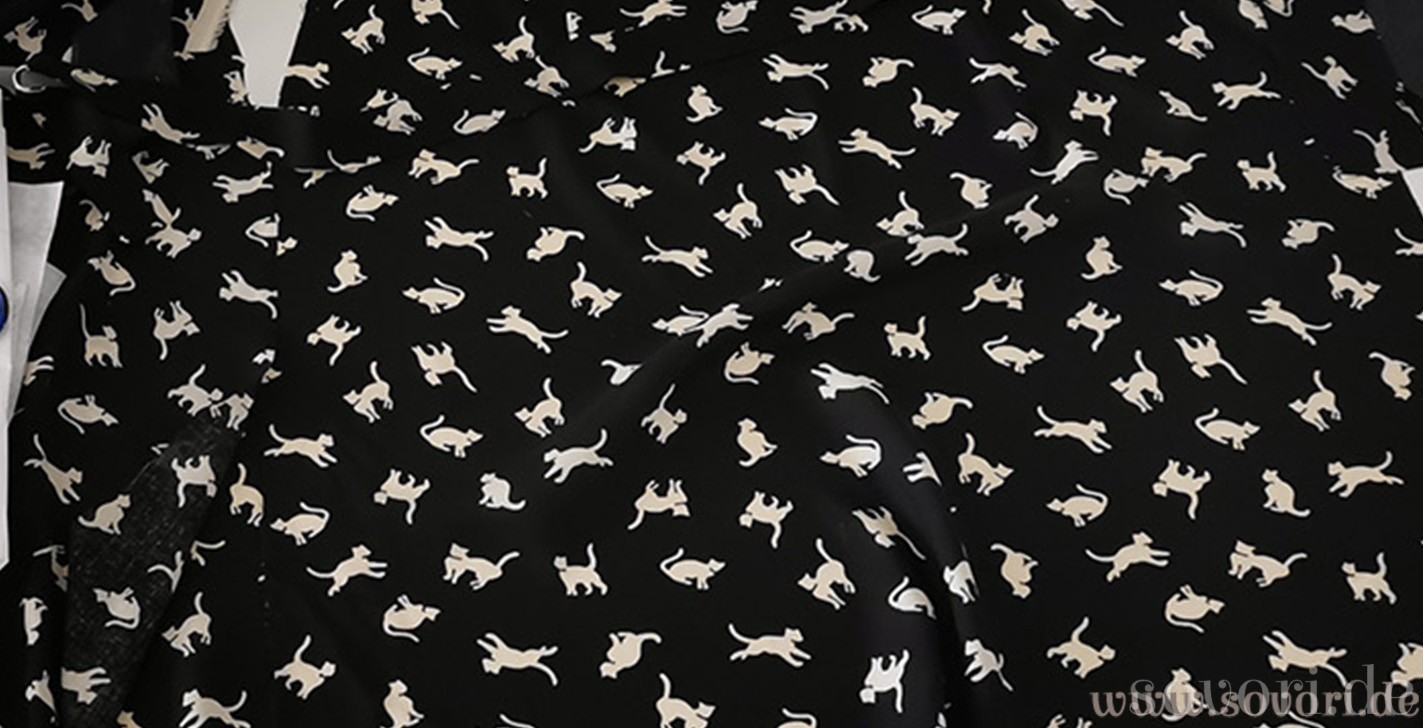 Most fabrics you can buy at the stores here are made in China. Retailers buy them at wholesales or directly from the factories. AliExpress offers a way for private customers to buy these fabrics directly from the production or a chinese reseller, which makes them very cheap. Due to an old postal law and good logistics, shipping costs from China to Germany are also very low. Sounds wonderful, right? Not all that glitters is gold.
When you buy fabric on AliExpress, you have no way of checking the quality. The reviews there are mostly fake, the description might not be meaningful and the pictures are photoshopped nicely. You can be lucky and get a wonderful, high quality fabric, that looks exactly like in the pictures. Or you can get a cheap fake with a bad print that shrinks in half when washed. I had both before.
So when I see a nice fabric on Ali, I first order the smallest amount to see, if the quality fits my expectations. If the fabric is good, then I order more.
When I saw that cat fabric on AliExpress, I instantly wanted to have it. So I ordered 1m and waited four weeks for the fabric to arrive.  It felt good and the print looked very nice too. I washed it in the washing machine and it didn't shrink. I don't know if it's really cotton, but I don't care because it looks and feels nice. Sadly, when I got my fabric there wasn't any more in stock at AliExpress, so I couldn't order a bigger amount. There is not much to sew with just 1m of fabric, so I sadly put it away in my closet for a year.
The pattern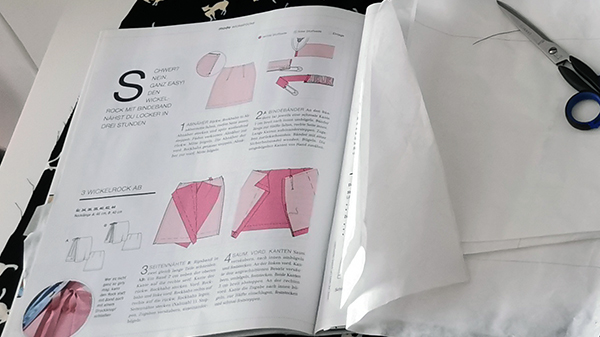 I discovered the pattern when I browsed through my collection of sewing magazines. It's from the Burdastyle Easy Fashion Magazine of the Spring/Summer 2017. There is not much to say about that pattern apart from that it is very easy to make and a perfect project for beginners.
Since it is a wrapskirt, that can be adjusted with the tie and has a nearly straight shape, I didn't need to adjust the pattern at all. I chose a size that fitted my waistline and that's it.
The only thing I changed is the length of the front overlapping piece of fabric, that is wrapped over the front skirt part. In the pattern, this piece is longer than the entire skirt and falls down in a triangle shape in the front. Sadly I didn't have enough fabric, so I cut that part and changed the shape. The wrap-piece of my skirt has the same length than the front skirt below.
Sewing the skirt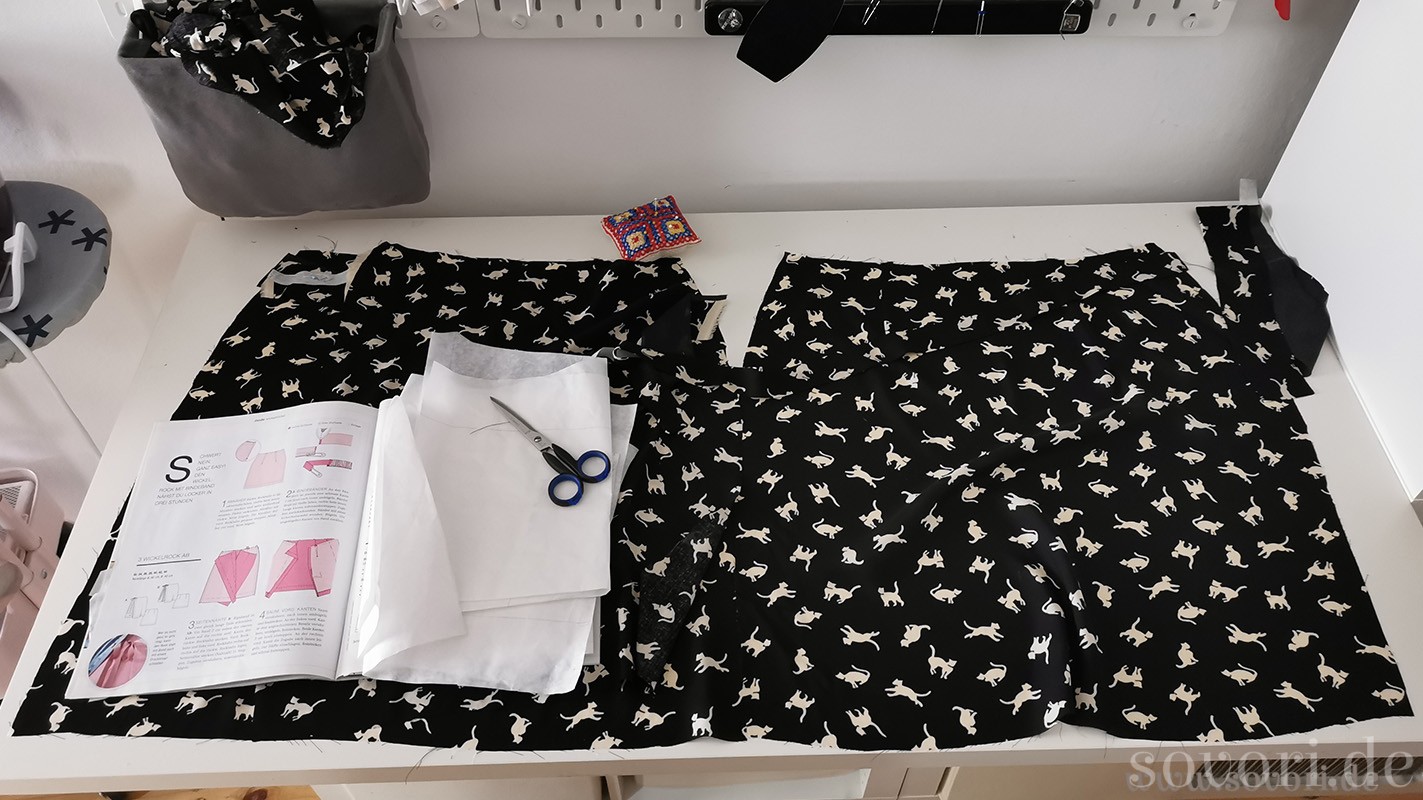 As I mentioned before, that skirt was very easy to make. It took me about two hours at all. By the way, this project is perfect for sewing beginners who don't own a serger. Most seams of the skirt are folded edges, so you don't have to finish the seam allowances except for the side seams.
Conclusion: I will sew that skirt again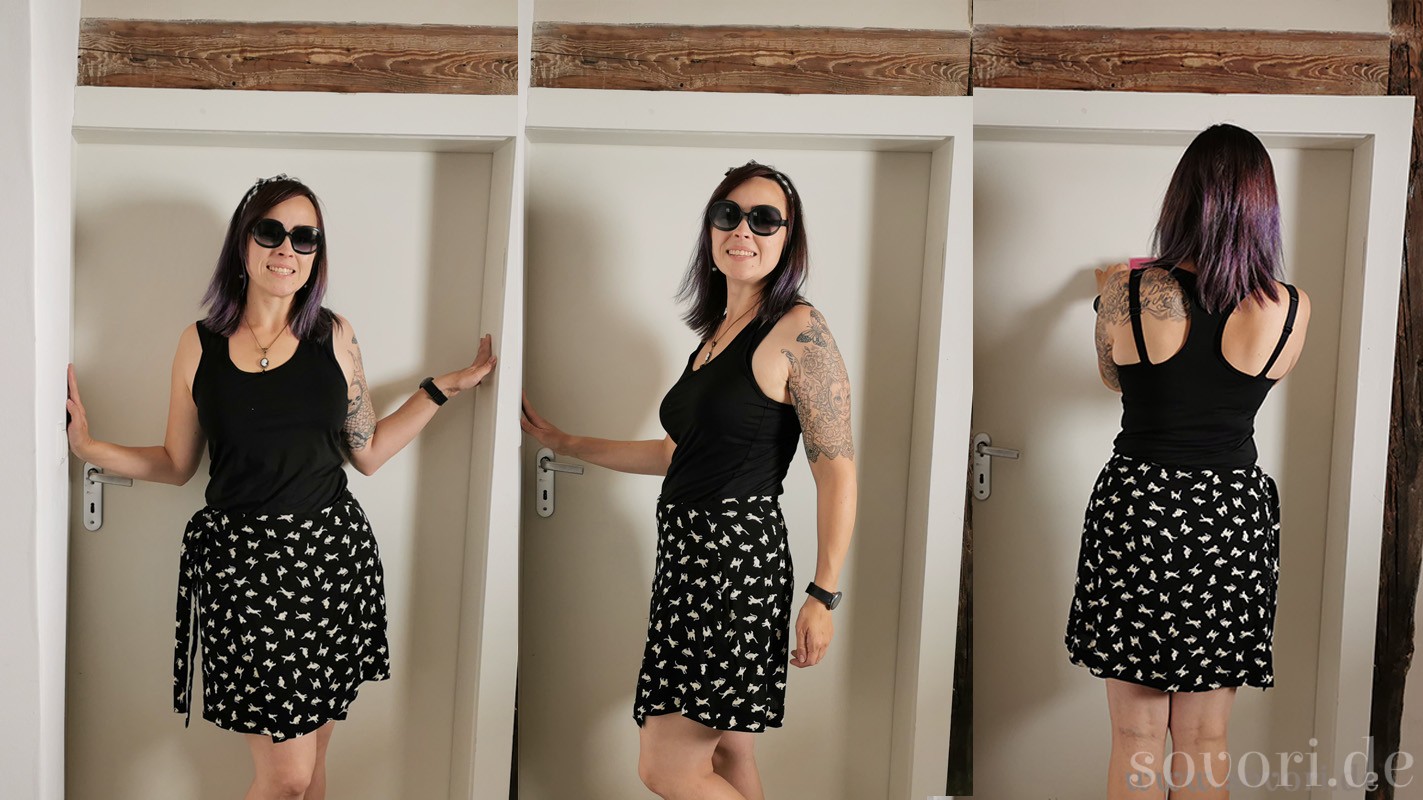 I like the outcome of this project a lot. The skirt is light, flexible and it has cats on it. Unfortunately it's a little too short for me, so I will only wear it at the pool or at home. But anyway I'm totally contant with that. Nevertheless I like the pattern a lot and I will definetly sew that skirt again. In the Burdastyle magazine there is another version of the wrapskirt made of corduroy, maybe I will try this one for my fall wardrobe.
And if you have scrolled down until my conclusion of the project, I will finally reward you with some cat content. Here is the skirt, and a cat.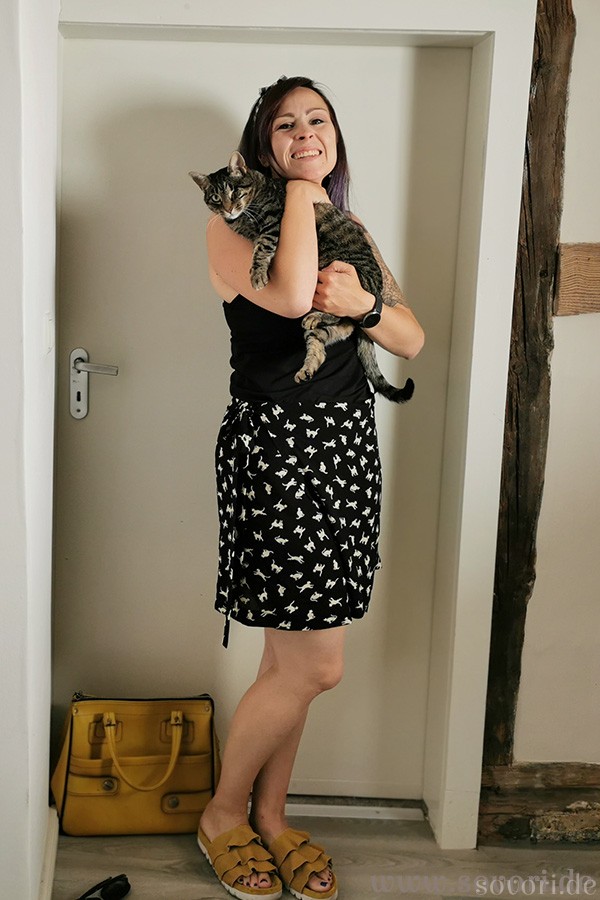 Thank you for reading this post. If you have any questions, feel free to write me a comment or visit me on MeWe. I wish you lot's of love, cats and sunny summer days
Lasercat