Not only travel bloggers are affected by COVID-19. The quarantines and the bans of public events makes blogging difficult for all of us, who deal with non-digital products in our blogs. I may not have to go outside for sewing, but I can't sew without fabrics and supplies. Buying fabrics online can be quite difficult. Need some help to figure out how to buy good fabric online?

I may be a little bit oldschool regarding this topic, but I don't like buying fabric online. It's hard to evaluate how a fabric will look as a piece of clothing based on a photo and some numbers on the internet. A screen only has one dimension, it's flat and brightend by artificial light. To decide what garment to make from a piece of fabric or what fabric to choose for a dress, I need more information. I like to touch and feel the fabric, look how it falls. Sometimes I even sniff on the fabric, because some of them has a nasty smell that even washing can not erase. In my town there are two sewing stores, where I like to buy sewing supplies. But since they are quite small, they don't offer a wide range of fabrics. Often I don't find the fabric I'm looking for there or I own already all of their fabrics that I like. To find a big selection of fabrics, I like to visit the great fabric markets. These take places in the towns around here at least once a month. The markets offer a wide range of fabrics in all kinds of qualities and prices.
I was looking forward to the next big fabric market on the 2nd of April and already wrote a long shopping list. But since the spread of COVID-19, all the markets are cancelled. And worse – It's uncertain how long the local stores will stay open. Probably all stores will have to close except for the foodstuffs, like in Italy.  Since all events and groups are cancelled, I'm at home with the baby now and there is not much to do in the town. So it's the perfect time for sewing and blogging now. But for sewing, I still need fabric, threads and other sewing supplies. So I have no choice but to order it online.
1. Where to buy my fabric online?
There are SO many online shops out there to order fabric from. I won't list the german shops I like to order here, because you are probably in the USA, Australia or South Amerika, where you can't order anything from Germany. So I will write about how to recognize a good store and a good fabric in general. But there are a few international platforms I want to talk about.
Your new favourite online shop
Step outside your comfort zone and google fabric onlineshops from your country! Maybe you'll find a new favourite online store to order your sewing supplies from.
Ebay Shops
A lot of fabric stores also sell their fabrics on ebay. That is great, because you can order directly, pay with paypal and don't need a login or a new customer account. Via the ebay app it is easy to browse and order the fabric. In addition, ebay offers a buyer protection system that helps you get your money back, when no delivery arrives, the delivery is late or you get a too short amount of fabric.
The selection of fabrics on ebay is huge, there are so many sellers and all of them have different priceranges. To me it takes a lot of time, to find a special product or the fabric seller with the best price among all of them. Also there are a lot of cheap fabric stores that offer low quality products. I already ordered sewing supplies that were quite cheap, but the quality was crap. Sometimes, cheap fabric can be a good choice, to sew a test garment or a costume for example. But you have to look closely to rate the quality of an ebay offer.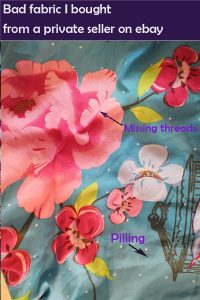 Private Sellers on Ebay
Some #sewcialists offer fabrics they don't need anymore on ebay. That is a nice possibility to get a piece of high quality fabric for a good price. But there is also a chance you'll get crappy, smelly or destroyed old fabric. There is no buyer protection for private sales and you'll never you what kind of fabric you will get. I advice not to invest too much money in private fabric sales.
Etsy
Some fabric stores from all over the world offer their products on etsy.  Mostly these are the stores that offer higher quality fabrics. Since the conditions and fees on etsy are tighter for sellers than on ebay, you won't find very cheap fabric there. Most of the offers have very good, detailed pictures and information on the fabrics and they offer a good customer support. I just love to browse on etsy, because the search function works very well, the pictures are good and the offers are not flooded with cheap crap and advertising. Just like on ebay, I can order and pay directly with my etsy account and paypal or my credit card. Etsy is a good advice, when you want to buy a very special kind of fabric (for example a special pattern like "black cats") and you don't mind spending a little more on it.
Amazon
Yeah, there are fabric stores on Amazon. The offer there is similar to ebay, yet not so huge. I'm not a big fan of "the big A", because I don't like their conditions for sellers, that allow bad pricing policies and the selling of fake products. Thanks to these conditions, it's not possible for smaller companies to make any money on Amazon. I don't want all the online trading to belong to Amazon – So I support smaller retail companies and try not to buy there.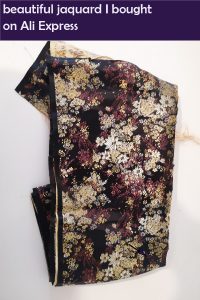 AliExpress
The cheapest way to order fabrics online! The app does not work very well, it's badly translated and the filter function sucks. But with a little experience and luck you can find chinese fabrics that are sold directly from the production. This means you don't have to pay any resellers which makes the fabrics very cheap. But AliExpress is also not the securest shopping platform. The delivery time is very long, it can take up to two months until your fabric arrives. Sometimes you don't get a delivery at all. There is no way to get your money back in that case. You'll never know what you get when you order there. Sometimes it is a great quality fabric, sometimes it's just low quality crap. But depending on what you are looking for, it is worth a try.
2. How to detect fabric quality online
When you are in a real store, it is easy to rate the quality of a fabric. I like to run over it with my fingers to feel the structure, I let it hang down to see the weight and I can crinkle it with my hands to find out if I need to iron it. All that is done in less than a minute. When I'm buying fabric online, that takes much more time. So here are the numbers you need to know:
Weight:The weight of the fabrics per metre is an indicator on how thick the fabric is. To me, that is the most important number when choosing a fabric online because the weight controls how the fabric will fall around the body when the garment is done, how much it can stretch and if it is transparent or not. Here is a table to compare the weights of common fabrics that can help you indicate, which weight you will need for your sewing project:


| fabric name | weight | description |
| --- | --- | --- |
| punta | 490 – 500 g/m | heavy knitted fabric. Used for dresses or pants |
| chiffon | 100 g/m | very light and soft flowing fabric |
| jersey | 200-300 g/m | standard knitted fabric for t-shirts |
| denim | 400g/m | fabric for a pair of jeans |
| fake leather | 500 g/m | mostly made of polyurethan, not stretchable |
| heavy velvet | 400 g/m | jackets, dresses or home decor |
| satin | 100-150 g/m | light and shiny fabric for dresses, shirts, skirts |
| viscose crepe | 150 g/m | Soft and light fabric for skirts, dresses, jackets |

Width:Most fabrics have a width of 58 inches. But some of them – Often laces or home decor fabrics are shorter or longer. Take a look at your pattern and how to cut it. Most sewing tutorials contain a specification on which fabric with to use.
Washing instructions:What do you want to sew? Especially when you want to sew casual clothing for yourself or your kids, it's important that the fabric is washable at least on 40° and can be dried in the dryer. Be careful with cheap fabrics that are desribed as "only handwash". Depending on what you want to sew you will need to put it in the washing machine to get it clean again.
Composition:Cheap fabrics are often made with a lot of polyester and less natural materials like cotton, silk or linen. But "Polyester" is not a bad material. It makes the fabric less crinkly, so you won't have to iron it and mostly it is easy to cut and sew. There are a lot of high quality polyester fabrics out there.
Pictures:I like to buy fabric in online shops that have many photos of the fabric in different position and daylight. Ideally they even have photos of clothing made of this fabric. Still there is a possibility that the colors of the real fabric differ from the ones on your screen. That happens even with my perfectly calibrated high resolution monitor, as you can see in the picture below.

3. How to compare fabric prices online
Most online sellers offers the fabrics by the metre/yard. But some show prices for about a half or a quarter metre. In these shops, the fabrics seem to be very cheap at first sight but they'll get expensive, as soon as you need a metre or two. Serious online sellers offers a price per metre and the bigger the amount of fabric you buy, the cheaper it gets.
No matter where you want to order your fabric, I always recommend you to google the product before buying and compare the offers. The cheapest fabric is not always the  cheapest offer. Check the shipping costs and the terms of purchase before you order. Always compare the full prices, including shipping, taxes and other possible fees.
4. How about other sewing supplies?
Buying supplies like rulers, scissors or needles online is super easy. I always buy the stoff from well known brands, so I'll get the expected quality. Especially when it comes to needles for your sewing machine it's important to use quality needles that wont break or get dull soon.
Buying sewing supplies online is much easier than buying fabrics because you don't have to touch and feel them to detect their quality. Only threads are a difficult matter. It can be hard to find a thread in a matching color for a fabric due to the deviation of the colors on the screen. Therefore I recommend buying the threads at an onlineshop who offers directly a matching thread to the fabric.
4. What to do once the fabric arrives
Control the length: Did they cut the length you ordered?
Control the color: Does it look like the color on the screen? If not, you can't blame the seller, but you can report it to him, so he can make the pictures better for other customers.
Prewash the fabric before storing it away: I always do that, so I can directly start sewing when I'm in the mood to work with that fabric. Also you ensure, that there is no bacteria on the fabric that could infect you with COVID-19.
Summary
whoa, that was a lot of text. Did you just scroll over all of that? No problem! Here is a short summary of my fabric shopping guide
And how about you? Do you order your fabrics online or not? What are your favourite onlineshop and how were your experiences? Please leave me a comment and let me know!
Yours,
Lasercat