I made some vintage style clothing again, but in a more modern fabric. In this post I'm going to show you my new pencil skirt that I sewed this week. It was so easy to sew and looks yet so elegant.

I love vintage fashion, especially the feminine styles from the fourties. I like the original patterns from that time a lot, but today these kind of clothes are not suitable for everyday use. The fabrics they used back then were mostly woven, made from cotton and wool. Knitted fabrics existed already, but they were used for underwear or sports clothing. Skirts, Blouses and dresses were made out of fabrics that are not easy to care for: They tend to wrinkle during sitting, are not washable very well and movement is limited. Clothing was washed much less than today, especially skirts weren't washed at all – They were brought to the the dry cleaning store every few months. That's why the good housewive from the fourties had a whole bunch of aprons hat home, to keep her skirts and dresses from getting dirty.
For the modern woman of today, that's no solution. We do so much more than cooking and cleaning during and we prefer our clothes to go with every activity during the day. That's why I love designs, that combine the elegance of the fourties with modern materials and techniques, that are capable for everyday wear in our modern life. Such a design I present you now: The knit pencil skirt from "Gertie sews vintage casual" made from ponte fabric.
The pattern
The pattern for this skirt is from the book "Gertie sews vintage casual" by Gretchen Hirsch**. Until now I havn't read any sewing book that facsinated me as much as this one. This skirt is already the fifth sewing pattern I made from this book. The patterns in there are mostly simple, many of them are made out of knitted fabrics and all of them have that magically vintage style. What I like the most about the patterns from Gertie is that they are made for curvy women. This means that they already have a little more space for bust and hips than default dress sizes. That's why they fit me very well and I don't have to do many adjustments.
This pattern is really simple. It contains only one pattern piece! The skirt is made out of elastic fabric, front and back piece are identical. It has no darts, not zipper and no slit.
Pattern adjustments
I made this pattern one size smaller than I actually wear (size 6), to make it fit tight around the belly. To make it fit around the hips as well, I made the hip section a little wider and more curvy. I shortened the seams about 6cm, because I wanted the skirt length to be a little more over the knee. The skirt has no slit in the back, so it's better to make it shorter and gain a little more freedom of movement.
Hint for sewing bottoms with elastic fabrics: If the garment should be tight around the body, make the pattern one or two sizes smaller than you actually wear. The fabric will fit much better around your bodyshape and there won't be any edges or seams standing out.
After making the skirt I added two beltloops on the side seams to it. I love belts on my highwaist skirts, but I hate it when they slip up or turn around during moving. To keep the belt in place, I added these little loops that are not included in the pattern. For them I used no pattern, just two 4x6cm fabric stripes.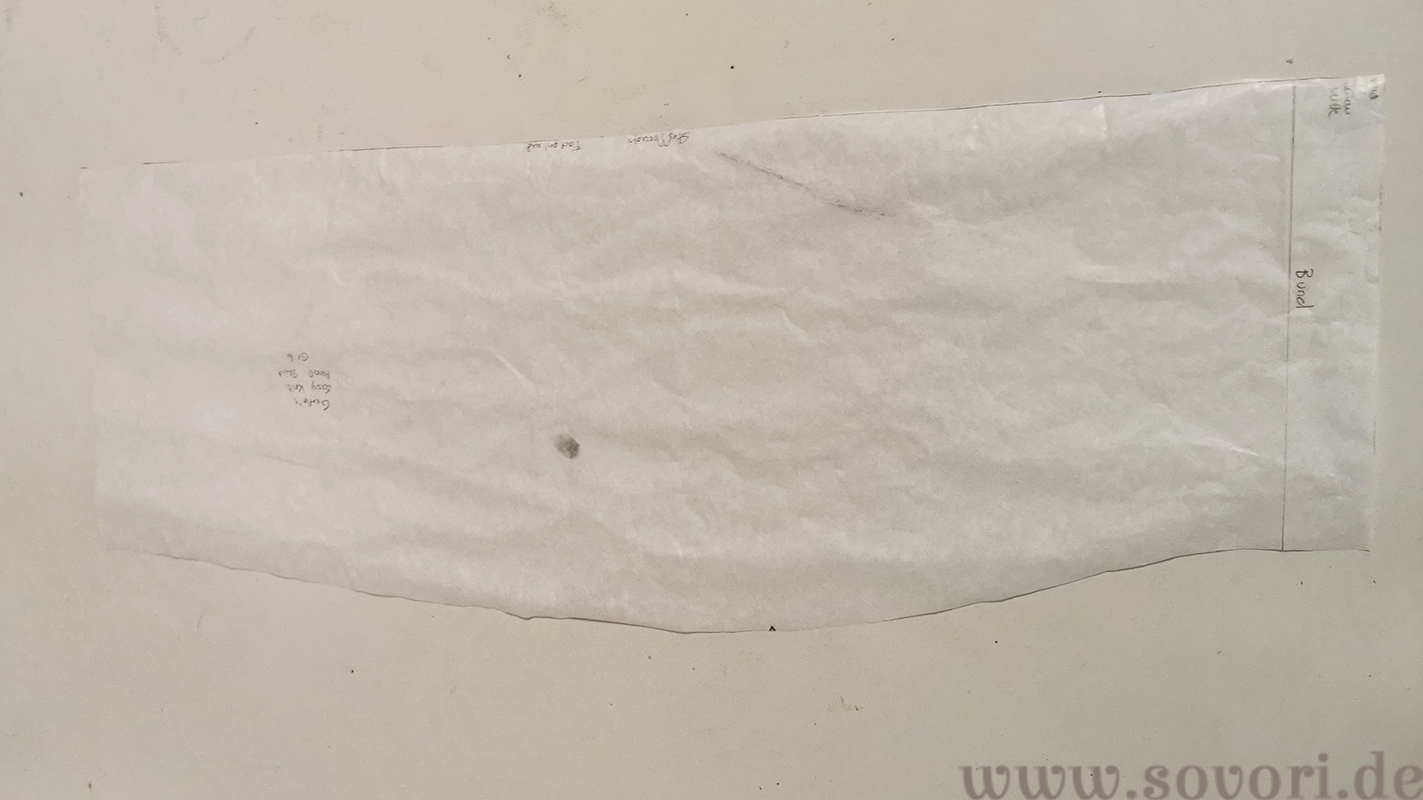 The fabric
I discovered this beautiful, purple checked ponte fabric at my local fabric store.I was looking for a checked fabric, because the october motto of the #sewYourWardrobeBasics challenge was "check". At first, I wanted to make a dress, but when I saw this fabric I instanstly saw a skirt in my imagination. So it had to become a skirt. This farbic is stretchy, but unlike most ponte fabrics, it has a matte surface with a very soft touch, that looks and feels like a wool fabric.
Ponte or punto jersey is a very thick knitted fabric. It's not as stretchy as normal, thinner jersey and heavier. That makes it perfect for dresses and skirts, because it goes smoothly around the body without showing seams of tights or underwear. Also it's warmer than thin jersey what makes it perfect for the winter.
The sewing process
There is not much to write about the sewing. I made this skirt in less then one hour. At first, the side seams are closed, then an elastic is sewn to the waistline, that is turned to the inside afterwards. I fixated the waistband on the sideseams and in the centers with a few stitches to prevent it from turning around again. In the end the seamline is finished with a twin needle.
I made the skirt on my normal sewing machine with a straight stitch and a microtex needle. The seam allowances and seamlines I finished with my overlock machine.
When the skirt was finished I felt like I would like to wear it with a belt as well. So I added little beltloops on the left and right side seam of the skirt to prevent the belt from sliding up or down.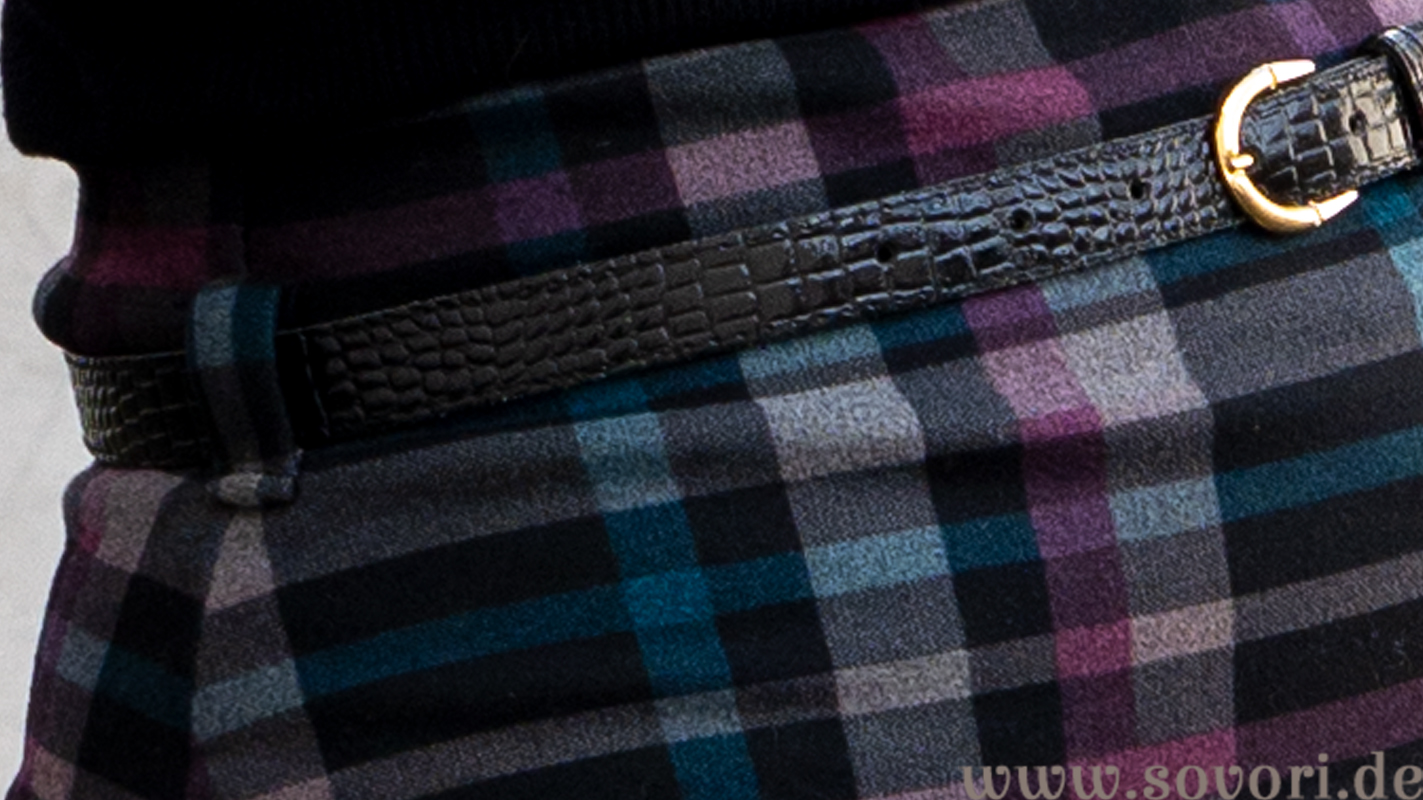 Conclusion
I love that skirt and since I have made it I have worn it very often. It can be combined in many ways – elegant as in the pictures or quite leger with a big knitted pullover and sneakers.
What would I do different next time?
The pattern might be simple, but it has the disadvantage, that the skirt hasn't got a walking slit in the back. The elastic material allows movement quite well, but the skirts still slips up when I'm going up stairs or getting in and out of my car. When I'll sew that pattern again, I will part the backpiece and add a walking slit in the back.
When I finished the skirt, I only had a 2cm wide elastic for the waistband. In the pattern, a 4cm elastic is used. I think the waistband would look a little better with a wider elastic and wouldn't turn around that easily. So when I'll do that skirt again, I will use 4cm elastic, as recommended in the book.
Summary:
Pattern: Knit pencil skirt from "gertie sews vintage casual" by Gretchen Hirsch **
Fabric: checked ponte fabric
Very easy to sew and comfortable to wear
Disadvantage: Limited movement because of missing walking slit
I hope you like this skirt as much as I do. Did you like this post about it? Please leave me a comment below!
kind regards,
Lasercat