Here is my very first post for the category "pants". I always say "Leggings are NO pants", but I don't have a category "tights" or "things I wear unter long tops and tunics" – So they are pants for now.
This pair of leggings is not one of the easiest sewing projects, although it's made of jersey, a very easy and forgiving fabric. But it's worth the effort! This pattern can be implemented in countless variants, fabrics and styles. My first but not last version is this "bikerlook-leggings" with purple faux leather inlays.
The pattern
The pattern is called "Puzzleleggings/Bikerleggings Biggi" and is published from the independent label "feefeefashion". It's available on Makerist or Etsy für 6,50€. Right now it's even on sale at the shop from feefeefashion for 3,50€. Sadly it's only available in German. So if you are from another country and need help with the translation, feel free to write man an e-mail (info@sovori.com) or a comment.
Since these independent printable patterns are not always from good quality I want to leave a short review on the pattern here:
The pattern is well printable and also the cutting and clueing worked perfectly. The pattern pieces match perfectly together and the sewing instructions are detailed and easy to understand. The only thing I didn't like about this pattern is the sizing: I made the leggings in size 38, due it was said in the instructions to choose one or two sizes smaller than the actual size of pants, because the leggings should be very tight to fit correctly. Anymay the leggings were too big for me around the hips and the waist. The seamline is a little too short, altought I alreay lengthened it for 4cm. The measurements of the leggings doesn't match the proportions given in the size chart of the pattern. I will give that feedback to the pattern creator, maybe there will be a review soon.
If you want to sew this leggings, I can give you this advice for fitting: It is very difficult to measure the pattern, though all parts of the leggings will be stretched while wearing it. Choose a pair of leggings from your wardrobe that fit you very well, measure them flat (not while wearing) and compare this measurements to the pattern. That's the best way to find out, if some parts of the leggings are too small oder too wide for you.
The fabric
I made this first pair of leggings from cotton jersey fabric and the inlays from purple faux leather. I bought the faux leather on ebay last year and the jersey from my local fabric store.
Sewing faux leather
This was the first time I made something out of that material, so here are a few advices for sewing faux leather:
Faux leather cannot be ironed or steamed. For the tucks on the knee part of the leggings I used two heavy books and pressed the tucks between them over night, to get them straight and flat in one direction.
My sewing machine didn't like faux leather. The surface is a little "sticky", so it gets stuck in the machine easily. I used a layer of baking paper under the fabric to make it slide easier through the machine.
The purple faux leather left a trace of purple color on the white parts of my sewing machine and my table. I didn't find a way to clean them yet. So be careful when you are using colorful faux leather. It can color other things you don't want to be colorful 🙂
It's recommended to use leather needles in the sewing machine for faux leather. With mine, the leather needle didn't work at all. I used a so called "microtex"-needle, which worked much better with the faux leather.
Conclusion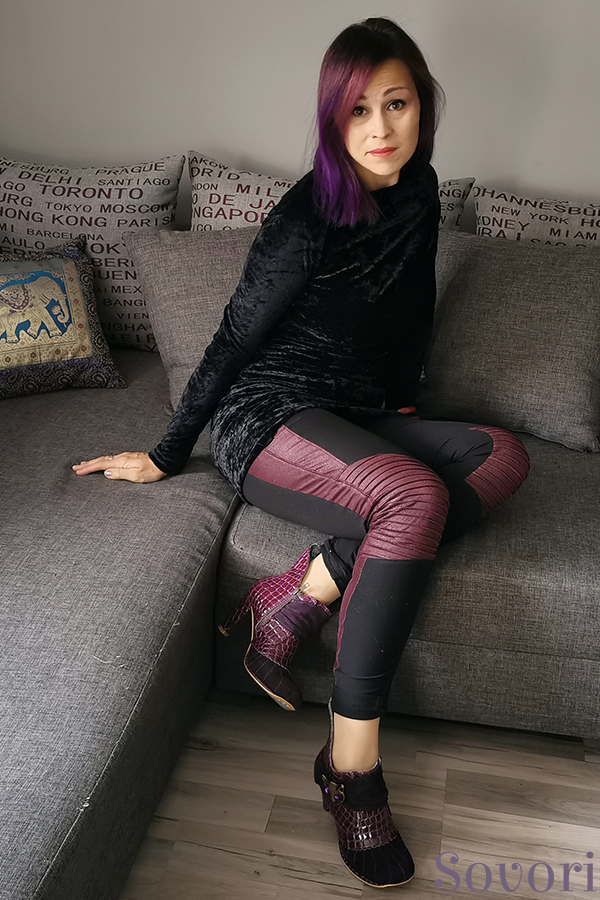 It's the first pair of leggings I ever made and I like the pattern very much. Nevertheless I'm not perfectly content with the outcome. The leggings are a little too wide around the hips, it slips a little and does not fit perfectly.  I don't like the knitted waistband too, it doesn't fit the leather and the jersey fabric, although I used the recommended cuff-fabric from the sewing instructions. I think I will remove the waistband, undo a part of the side seam and make the leggings a little tighter. Then I will add a wide jersey waistband. I hope it will fit better then.
I made a little sewing mistake too. When I sewed the ankle pieces, I might have stretched the fabric accidentally so it got torn a little bit on one leg. It's not visible when I'm wearing the leggings because the fabric is stretched, but when I lay them down flat, I can see that one leg seems to be wrinkled and turned a little bit. That's not a really bad mistake, but I hate it when such little things happen during sewing projects.
As I wrote before I like the pattern very much. It's a perfect basic piece with cute details. I will sew that leggings again, this time out of plain black punto fabric. It's already on my To-Sew-List for fall/winter 2020 and it's in my 3×3 capsule wardrobe sketch too! So visit my blog again in a few weeks and see my next pair of leggings in plain black!
Thank you for reading this post so far. If you'd like to see how I style the leggings, visit my Instagram Channel. I will upload a lot of styling ideas during the next weeks. I would be happy to read your comment here too!
kind regards,
Lasercat